With new single- and multifamily homes on the upswing, natural gas utilities are leading the way toward innovative solutions to further the housing market's recovery.
There's nothing like a healthy dose of optimism to start off the New Year, and finally—after several years of wondering just how long a shadow the 2007–2009 recession would actually cast—there's good news in the residential housing market.
Multifamily housing starts have essentially recovered to levels approaching normal, and single-family housing starts, while still only about half of what they were in early 2000s before the housing boom, are increasing yearly.
"We had the worst recession since the Depression, and it has taken a lot of time to recover," said Robert Denk, senior economist with the National Association of Home Builders. "We are seeing increases in single-family housing starts each year, and we do expect that to continue."
The NAHB projects 1.1 million housing starts this year, up from just slightly over 1 million in 2014. By the end of 2016, the projection is for 1.29 million housing starts.
At 647,000 last year, single-family housing starts are expected to increase to 719,000 by the end of this year and jump even more in 2016, when they are predicted to be at 914,000, according to the NAHB. While 2014 saw 354,000 multifamily housing starts, the NAHB expects 387,000 such starts for 2015.
The multifamily sector recovered faster in part because many previous homeowners became renters in the mortgage foreclosure crisis, Denk said. In the aftermath, lending standards seized up but are now easing, boosting the number of would-be homeowners.
Plus, builder confidence in the market for new construction was optimistic this fall, according to the NAHB/Wells Fargo Housing Market Index, which registered a one-point increase to a level of 62 in September, the highest reading in 10 years. And builders indicated buyer traffic and current sales conditions were on the upswing.
Meanwhile, optimism among builders is mirrored in the world of natural gas utilities and appliance manufacturing, where those in the know say there's a noticeable upswing in use of natural gas for space heating, water heating and home appliances.
"New construction is up significantly, and builders are trying to find ways to differentiate their houses from the other new houses down the street. As consumers are looking to compare which builder is building the more efficient house that will result in lower energy bills down the road, natural gas builders are looking attractive," said James York, vice president of engineering for Rinnai America Corp., a gas appliance manufacturer specializing in high-efficiency tankless water heaters and home heating systems.
DTE Energy | Natural Gas on Parade
In Michigan, most builders build with natural gas where possible, but in an effort to get builders to put in more burner tips, DTE Energy came up with a unique incentive.
DTE Energy partnered with a builder in each of its larger metropolitan areas of Grand Rapids, Traverse City and Ann Arbor to encourage the "outdoor room" concept in showcase homes built for the annual Parade of Homes tour.
Each of the three builders agreed to utilize five natural gas appliances in the home and then received $10,000 from DTE toward gas appliances that could be used in the outdoor room, a space that could include poolside areas, porches, decks, screened-in rooms and four-season rooms.
"Typically customers don't think of natural gas for outdoor rooms because they are so focused with what's going on inside the home," said Christine Cole, residential sales manager for DTE. "Outdoor rooms are a growing trend, and we wanted to say, 'Hey, think about natural gas.' Especially in Michigan, using natural gas outdoors will extend the use of the outdoor room in the shoulder seasons of April/May and September/October."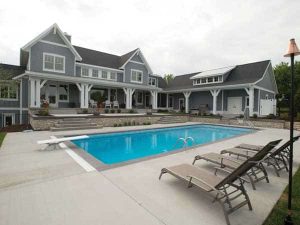 DTE Energy created unique builder partnerships to encourage the use of natural gas in outdoor rooms and poolside areas.
Builders like Troy Schrock, owner of Epique Homes Inc. in Grand Rapids, took DTE up on the offer and featured natural gas products to create a backyard escape with a cozy ambiance unlike anything potential clients had seen before.
"As a builder, I'm always looking for ways to make people want to build new. I always say my biggest competition isn't other builders; it's the existing market of homes. When people see gas lights on the front and back porches and gas fire pits in the backyard, they want it, and they can't necessarily get it by buying an existing house. So, it gives them a reason to say, 'Maybe I'll build,'" he said.
At pre- and post-Parade of Homes receptions, customers invited by DTE and the builders raved over what they saw—cozy fire pit bowls that allow for extra time out under the stars, Tiki torches for mood lighting and grills that plug into quick-disconnect stainless steel boxes, providing access to the natural gas line and no worries about running out of propane in the middle of flipping burgers for company.
"We had people demonstrating how natural gas cooking can work without the inconvenience of propane. It became about education: You don't have to run to the store to exchange your propane tank," said Suresh Bhargav, principal marketing specialist for DTE Gas Co. "This gas plug sits on your wall just like an electrical outlet."
The partnership paid off—almost half of the 71 houses in the Grand Rapids area Parade of Homes had outdoor rooms featuring natural gas appliances, Bhargav said. "The education piece works," he said.
"It was a very positive experience to work with builders to make sure they are in sync with what natural gas can do to differentiate their homes and what customers can enjoy. It gets our message and our name out into the community."
It certainly worked for Schrock, who said the experience definitely makes him more likely to feature and suggest natural gas in future outdoor rooms of homes he builds.
"A lot of people think they can't afford it, but it can be done at a medium- and low-price point, even if it's just a plug-in for a gas grill. The payback over time is there," he said.
XCEL ENERGY  |  The Business of Hot Water
Who doesn't want to save money on their energy bills? For an elderly person on a fixed income, saving money on heat or hot water can mean food on the table.
So, when the Housing Authority of the City of Pueblo wanted to build a new elderly housing complex in Pueblo, Colorado, the Authority's architect Gary Trujillo knew he wanted to avoid water heater and furnace headaches similar to those at the Authority's Union Plaza Apartments' location—and he wanted to save residents money.
For its new build at Ashwood Apartments and a retrofit at Union Plaza, the housing authority chose Rinnai tankless water heaters, an energy-efficient system that uses a gas-powered heat exchanger to heat water when it's needed. The innovative technology allows for water to heat when water flow is detected, resulting in continuous hot water.
Very important in an apartment setting, the system delivers hot water to multiple water sources at the same time, maintaining a constant temperature set by the user.
"The beauty of the Rinnai tankless is that you get a high-energy product without sacrificing performance," said Rinnai's James York.
The company has seen an increase in the use of tankless water heaters due to cost issues. Heating water is the second-highest cost in the home after space heating, and tankless water heaters can save a homeowner 20 to 39 percent, York said. New water heater energy efficiency standards set by the federal government last April have also impacted the move toward tankless as homeowners needing to replace tanks or builders putting in new tanks are facing much more expensive tank options than before. And code issues, particularly in California, are encouraging use of more efficient products, noted Joe Holliday, senior director of business and product development at Rinnai, based in Peachtree City, Georgia.
"Most of California's new construction is going to gas tankless, and California tends to lead the country in change," he said.
At Union Plaza, the Authority did a retrofit for 44 apartments served by two boilers that had developed problems due to a design defect in the building. The boilers were replaced with four tankless water heaters. The Authority kept the original 1,000-gallon storage tank as a buffer for peak usage times.
Ashwood Apartments was a new build of 25 units, each fitted with a Rinnai tankless water system partnered with a hydronic furnace to provide heat.
"Instead of a typical furnace, this hydronic furnace has a hot water coil powered by the tankless water heater that warms the air as it passes by, and that's a more comfortable type of heat, not as dry," Holliday said. The system is also unique in that it senses when hot water flow is a priority.
The savings came in right away for the Authority, which saw a 70 percent drop in gas costs at Union Plaza, according to Trujillo.
Three years later, with those savings in mind, the Authority built the Villas at Oakshire, detached single-family homes fit with the same natural gas system. Residents there save about 40 percent of gas costs over similar units using conventional furnaces, Trujillo said.
The success of the Pueblo projects has even opened the door to many more new builds and retrofits using natural gas.
Xcel Energy, the natural gas provider in the Pueblo area, has worked closely with the Housing Authority of the City of Pueblo for years and considers it to be a very strong partner in natural gas demand-side management efforts in southern Colorado, said Bill Conrad, manager, energy efficiency marketing for Xcel.
"In late 2013, with Energy Outreach Colorado also serving as a partner in this effort, the company provided rebates for some 294 high-efficiency furnaces through the Single Family Weatherization Program. We hope to continue these efforts into the future," he said.
WASHINGTON GAS  |  Go Big—At Home
As large-property owners are increasingly looking at where they can create value, capital improvements in energy systems are sometimes overlooked but can make a big difference.
For example, Washington Gas Light Co. is involved in a multifamily conversion project called Cider Mill Apartments in Gaithersburg, Maryland, that promises to do just that. The 864-unit complex is going from a 1971 boiler system to an energy-efficient tankless water system, featuring a Rinnai tankless hydronic system with air handler and cooling coil.
"We like the size," said Scott Altman, executive vice president of the Donaldson Group, the Rockville, Maryland-based owner of Cider Mill. "With new legislation and new regulations coming out for stand-alone water heaters, space requirements were an impediment."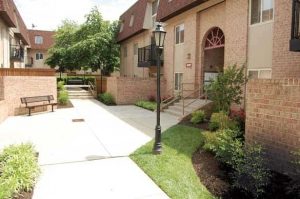 The conversion means that the complex is going from 12 big meters to 864 individual meters, "which just grew our market share of meters by a lot," said Jennifer Eugene, specialty sales manager at Washington Gas.
Washington Gas was involved in the conversion of Cider Mill Apartments to a more efficient tankless water system.
While the conversion will lower the energy usage at the property, which will save the property owner money, it will also allow the tenants to participate in energy efficiency. Since the utility bill will go to individual tenants rather than being part of their rent, they can take more responsibility in their energy usage. "Before, if a resident was on vacation for a month, they would still get the same gas bill as the person who was there," Altman said. "Now whatever is actually used in their apartment is what they will pay for."
To help the developer, Washington Gas plays a role in not only supplying energy to the building, but also developing resources to help make energy improvements, Eugene said. For example, Washington Gas provided financial assistance to help with the gas piping needed to deliver the gas from the meters to the individual equipment.
"With natural gas prices and the efficiency you get, we know it's the best choice," Altman said. "In future projects, we intend to use gas instead of electric."
"When they promote their properties, they can emphasize they are energy-efficient, which is very attractive to prospective tenants," Eugene added. Plus, she hopes word of mouth from the success of this unusually large project will create awareness among other property owners. "It's been a joy to work on this project and to be part of the energy-efficient movement," she said.