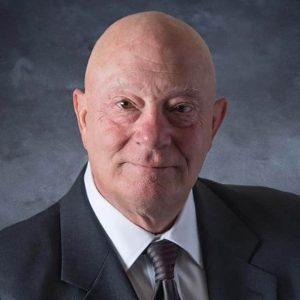 On October 20-21, PMA will host its 45th Property Management Exposition. For more than four decades, PMEXPO has been a signature PMA event and a driving force behind the lion's share of the successes and services that PMA provides to its members and the industry. It is only fitting to celebrate this milestone by paying tribute to the person responsible for PMEXPO – Walt Donaldson.
Walt served as PMA President in 1975, and he had a vision to bring property managers and industry suppliers together to network, exchange ideas and to do what Walt understood is essential to success: build trusting relationships.
The first PMEXPOs were held at the Wardman Park Hotel and featured a series of tabletop exhibits. In the initial years, Walt was the chief salesperson, attendance promoter and cheerleader. As PMEXPO grew, new venues were necessary. The show moved to the Capital Centre and became one of the first trade shows "in the round," a revolutionary concept at that time. Since then, PMEXPO has been held at FedEx Field, the Prince George's Sports & Learning Complex, the Walter E. Washington Convention Center and in 2020 virtually (www.pmexpo.vfairs.com).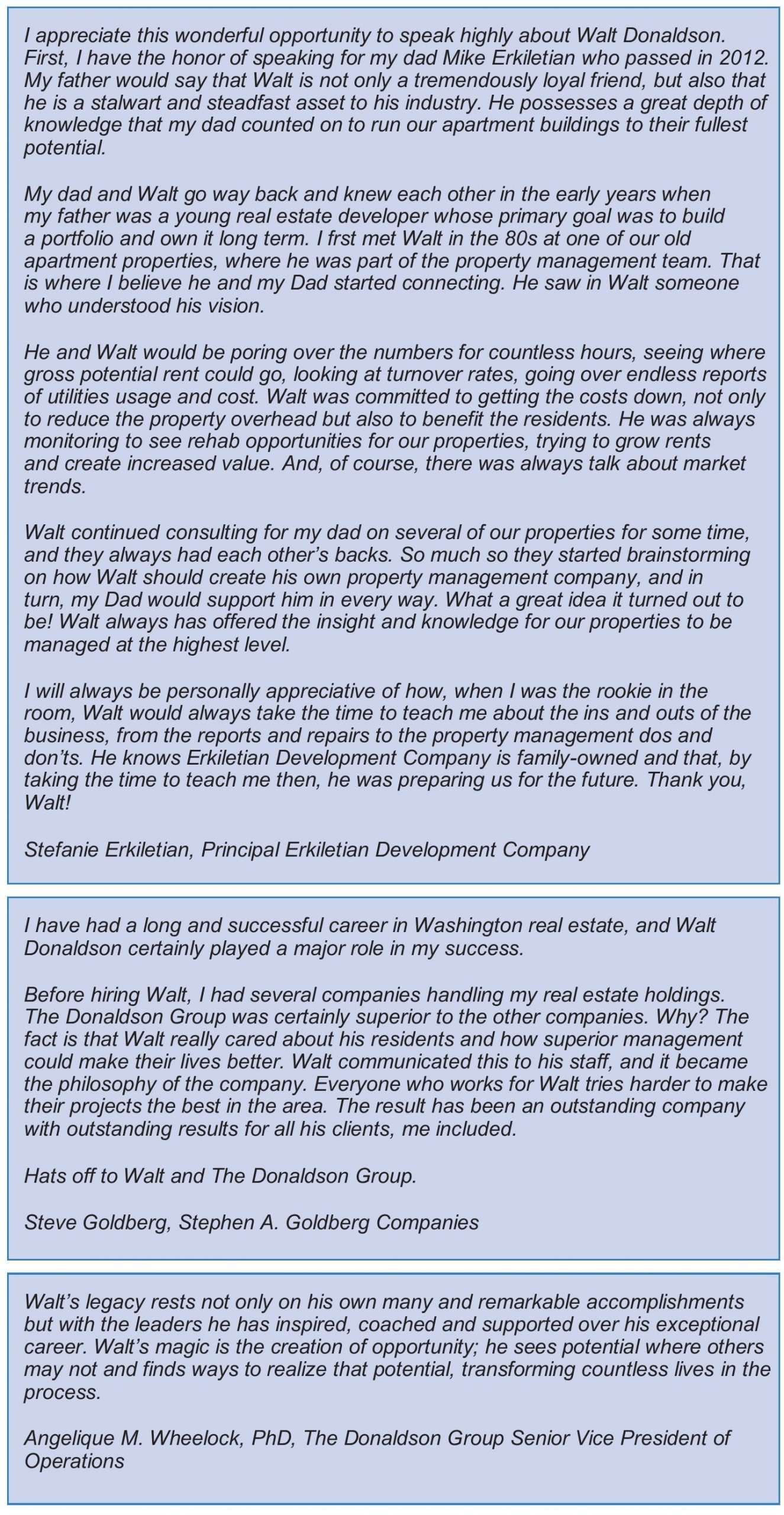 Walt is widely respected as a property manager's property manager. "Walt belongs on the Mount Rushmore of property management alongside the likes of David Hillman and Jack Kay," claims long-time client Cliff Mendelson (CEO, Metropolis Capital Advisors). "His integrity and personality put Walt in a class by himself," Cliff said. Those thoughts were echoed by more nearly a dozen of Walt's clients who contributed to this tribute.
Walt began his property management career as the night maintenance technician in a small apartment building on University Boulevard. At the same time, Walt served as the night auditor of the Georgetown Inn. Hands-on and finance.  Two skills that Walt mastered and still leverages to this day to create tremendous value for the properties under The Donaldson Group's watch.
"Walt's breadth of experience is unmatched," related Joel Hochman (Partner, Stephen A. Goldberg Companies).  Walt is old school. What differentiates Walt from almost all other property management executives is his understanding of the nuts and bolts of what is required to operate a multifamily residential property. He came from the ground up and has walked in the same shoes as a leasing consultant, maintenance technician or onsite manager. He brings that knowledge and experience to the executive suite. "Walt's empathy combined with his knowledge and experience exemplify what is required to lead and manage effectively," Joel stated.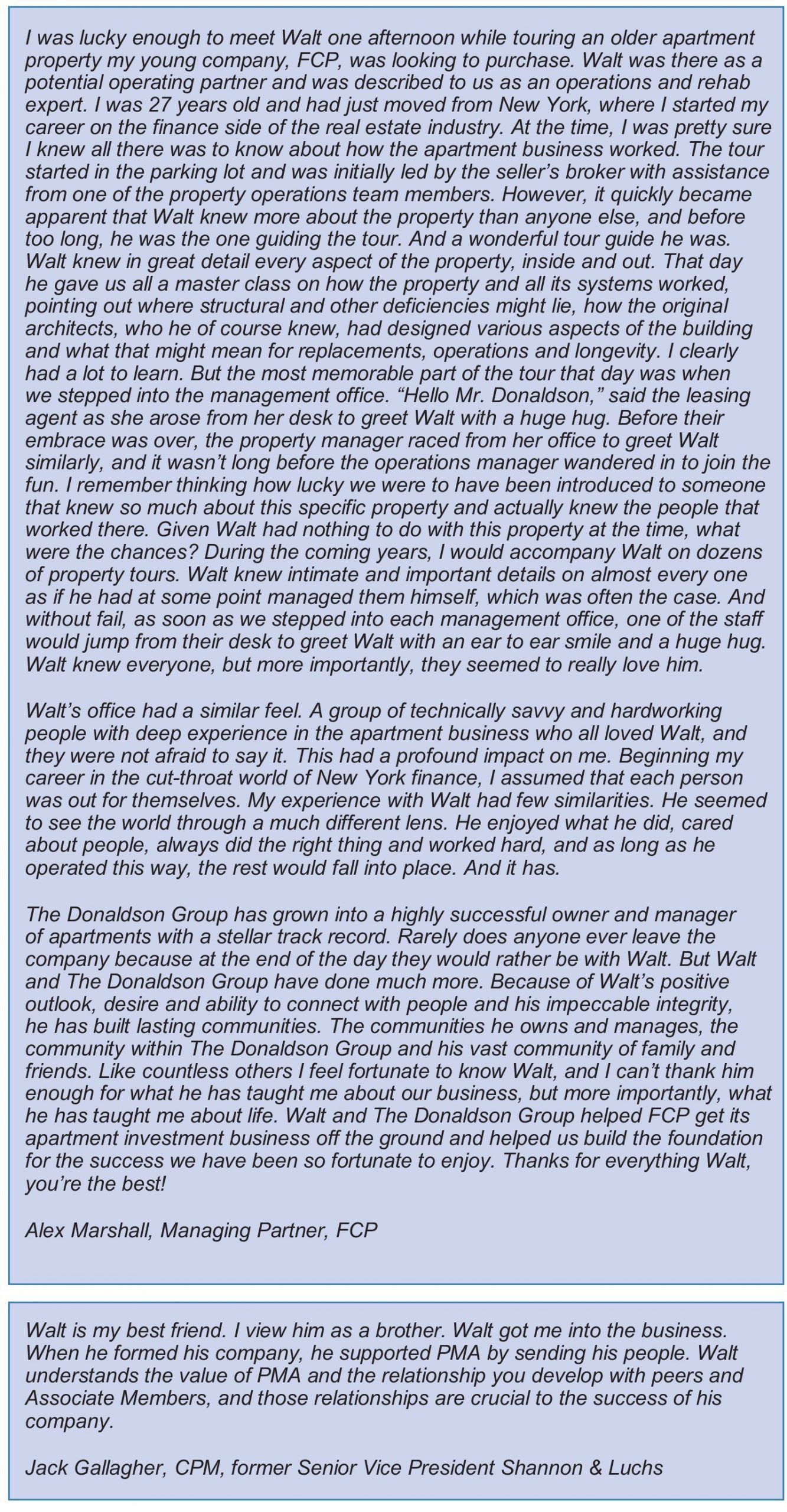 Walt eventually gravitated to Dreyfuss Brothers in the early 1970s, and that's where he worked when he became PMA President.  Dreyfuss and Walt parted company during the savings and loan crisis of 1989. He moved to Grady and then returned to Dreyfuss four years later. With each move, clients such as Joann DiMeglio (President, JKD Management, LLC) moved with him. Walt had managed properties that Joann's dad had built and she readily admits that Walt was responsible for her property management MBA. "He taught me everything I know about this business," Joann said. "He is the most astute person in the apartment industry. He understands the business from the boiler room to Wall Street. Long before the term value-add entered the business lexicon, Walt understood how to create value at apartment communities."
Cliff Mendelson concurs. He had an underperforming apartment community and met with Walt and current The Donaldson Group CEO Carl Einsel to review the numbers. Walt immediately saw the upside potential. He said that he could double the NOI within two years. "Every third-party manager makes a similar claim, but few ever perform. Walt did by reducing expenses and putting the property on a solid path."
A familiar refrain among The Donaldson Group clients is honesty, integrity and humility. "Walt's seal of approval is critical to any of our deals," reported Michael Brodksy (CEO, The Goldstar Group). "I would not buy an apartment community without Walt's or The Donaldson Group's okay," Michael said. Those sentiments are echoed by CBRE's Michael E. Muldowney (Executive Vice President Institutional Properties, Multifamily). "Walt is familiar with every property built between the 1960s and 1980s in the greater DC/Baltimore region. We had a property located off New Hampshire Avenue, built in the late 1960s that straddled the Prince George's and Montgomery county line. We had questions from the buyer about right-angle braces that appeared to attach flat roofs to the buildings, but only on the Prince George's County side of the property. Who you gonna call!!?!? Walt! He recalled a tornado, derecho or hurricane with high winds that blew off a few of the roofs at the property just after it was built. To "correct" the issue and mitigate the chances of this happening again, the Prince George's building inspector required the owner to install these right angles; the Montgomery County counterpart did not. And there you have your answer."
Joann DiMeglio and several other of Walt's clients encouraged him to create his own management company, which he did in 1998. Like many start-ups, Walt began The Donaldson Group in his home's basement without any employees and without a client. His first project was to manage two buildings with a combined 120-units. When another owner wanted to give his entire portfolio to Walt to manage, Walt balked because of the potential litigation that might result for breaches of existing contracts and other issues. Instead, the owner retained Walt to be his asset manager and called Walt to ask how much he would charge for those services. Walt provided a proposal that the owner rejected because he did not believe Walt could live on that. "I'm giving you a raise," he said, and the next day, Walt got another raise because he was asked to train a young employee and teach him the ropes. That's when Scott Altman – The Donaldson Group's current President – and Walt first met.
Walt was so appreciative of the work and the trust that he was given. As time wore on, the company became more established. Owners of properties that Walt managed previously started to reach out as did others who were looking for a small hands-on company. Carl Einsel soon joined Walt to help with the development and acquisition side of the business. In the early 2000s, Walt and The Donaldson Group started to develop a relationship with Federal Capital Partners as it was beginning.
FCP principal Lacy Rice recalls, "We were dabbling in workforce housing. It was a difficult business to operate, but that's why we liked it. We knew we had to find someone who knew how to operate and reposition properties. That's when we found Walt." The relationship was win-win from the beginning. "We would follow Walt like little kids to view properties. He would tell us who built the property, what was wrong with the management or physical asset, how to fix them and what it would cost. Walt's passion for workforce housing was contagious and his selfless concern for residents, employees and clients was always inspiring."
Walt's relationships with Steve Goldberg, Joann DiMeglio, Mike Erkiletian, FCP and others fueled The Donaldson Group's growth in its formative years. Even brokers would recommend The Donaldson Group to potential purchasers.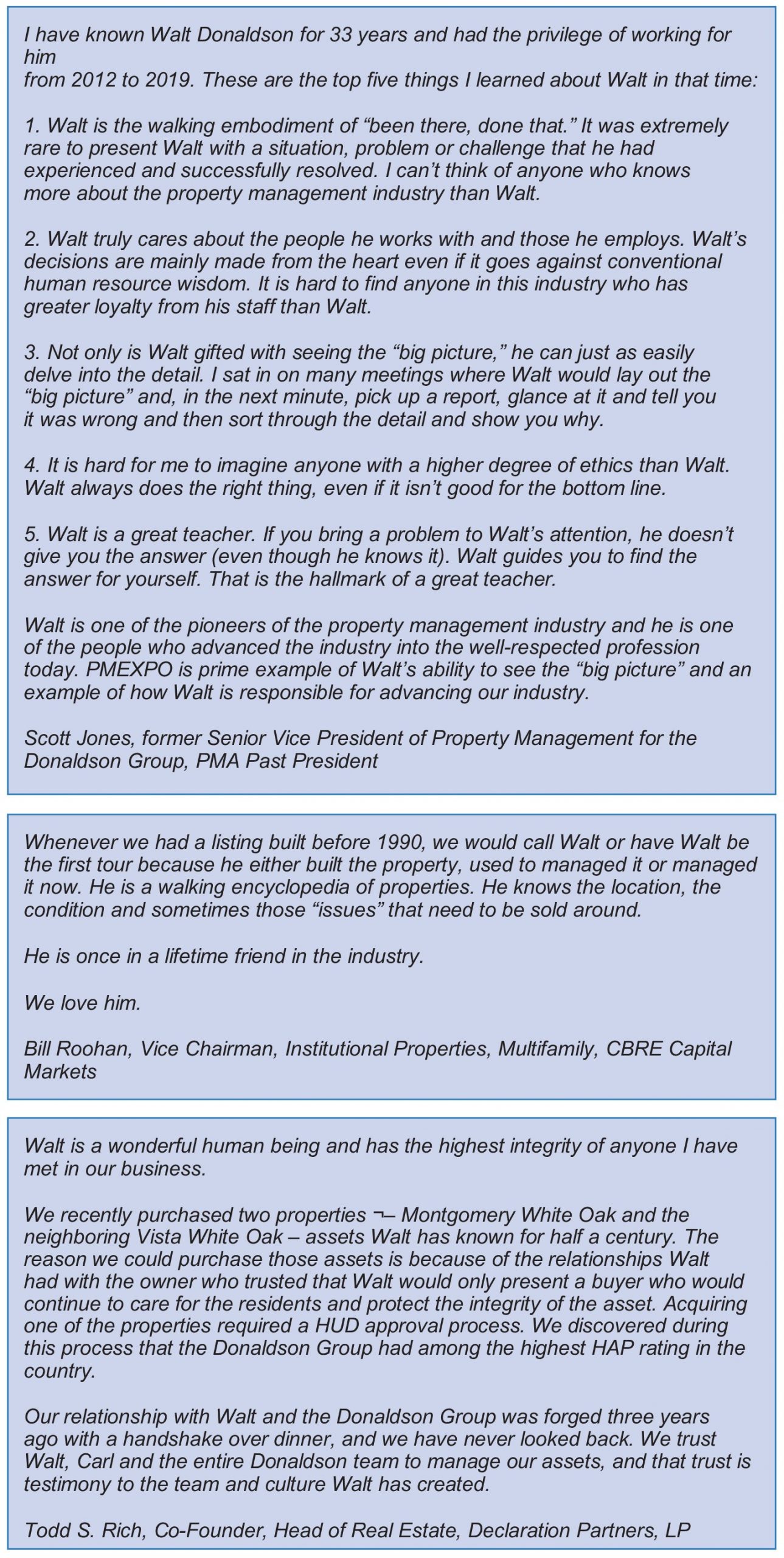 Trustworthy, compassionate, committed, honest, caring, accountable, passionate and beyond reproach are terms that Walt's clients repeatedly use to describe the qualities that Walt wove into the fabric of The Donaldson Group's corporate culture. "We hire for culture first instead of skill set or experience," claimed Carl Einsel. The company has a unique approach. It empowers regional and site managers much more than many other management operations. "Our team members receive clear direction on the plans and goals for each property and are given the leeway to determine how to best manage the asset. Team members know where they can obtain the support and resources they need to succeed," Carl said.
"What I know about apartments, I learned from Walt," explained Steve Klebanoff (President Sumner Partners, LLC). "I can't say enough about how trustworthy he is. When you work with Walt, you get his best ideas and frank discussions, but the focus is always on the outcome. Walt knows how to make things better."
Another differentiating competitive advantage that The Donaldson Group brings to its clients is the desire and ability to think like owners. Steve Klebanoff added, "Walt's attitude and professionalism have resonated through his entire organization. They treat every asset as the most important property in the portfolio. That is testimony to his way of conducting business and it is the magic sauce that is difficult to replicate."
In recent years, as Walt has stepped aside from overseeing day to day operations, his focus has been on mentoring his executive team to help ensure continued success. That team understands that they are responsible for carrying the torch into the future. Their vision is to take what Walt created and make it even better. As Carl explained, "We never want to hear, The Donaldson Group is not what it used to be."
As the founding father of PMEXPO, PMA and the industry owe Walt a tremendous debt of gratitude. We can all honor Walt's vision by attending PMEXPO this year, October 20 – 21, virtually at www.pmexpo.vfairs.com.
In his book, The Soul of America The Battle for Our Better Angels, Pulitzer prize-winning historian Jon Meacham related the traits that distinguished America's founding fathers from others. He wrote, "They exemplified that honor matters, because character matters. And character matters because it is critical to how you are perceived by those you interact with daily." Walt Donaldson is one of property management's best angels, and he has set a standard of honor, character and integrity that is well worth emulating.