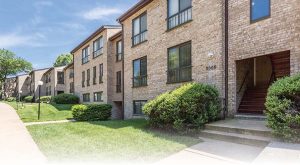 Rockville, MD, June 20, 2017 – The Donaldson Group (TDG) of Rockville, MD and its equity partner, New York-based DRA Advisors LLC (DRA), have acquired
Brinkley Manor Apartments, a 126-unit garden-style apartment community located in Temple Hills, Maryland. The acquisition price was approximately $15.05 million, and the partnership plans to invest additional capital to renovate the property.
Robert LaChapelle and Matthew Forgione of CBRE Debt & Structured Finance assisted the DRA-TDG partnership in obtaining acquisition financing through Fannie Mae's Green Loan Program. The seller was represented by Michael Muldowney and Brian Margerum of CBRE's Baltimore, MD-based investment sales group.
Residents at Brinkley Manor enjoy a quaint, suburban neighborhood setting, but also have convenient access to nearby destinations, including National Harbor and downtown Washington, DC, via the Capital Beltway (I-495) located just one mile from the property.
Brinkley Manor is comprised of 21 garden apartment buildings constructed in 1972. Its one-, two- and three-bedroom apartment homes range from 813 to 1,448 square feet in size with each apartment containing individual washers and dryers. TDG's renovation plan will include replacing the current outdated utility system to improve service to the community's residents and cutting energy consumption dramatically. The new ownership also plans to upgrade buildings, common areas, property grounds, and renovate individual apartments.
"The acquisition of Brinkley Manor Apartments presents us with an outstanding opportunity to reposition a well-located apartment community in a strong rental market," said Carlton Einsel, President of The Donaldson Group. "We are extremely pleased to have executed our first transaction with our partners at DRA Advisors LLC and we continue to seek similar deals."
"This property has significant upside potential, and we look forward to creating value for both the residents and our partnership through our planned renovations," said John Majeski, Senior Vice President of The Donaldson Group. "This is the type of project that plays directly to The Donaldson Group's strengths."
The Donaldson Group is a full-service real estate management and investment firm offering comprehensive services and expertise in property and asset management; financial management and accounting; investment, underwriting, and acquisition analysis; and construction management and renovation services. Since 2003, TDG has advised clients on the acquisition of over 15,000 multifamily units valued in excess of $1.5 billion, and has taken over management of over 25,000 units. During this same time period, TDG has advised clients in disposing of over $1.25 billion in real property investments, comprising approximately 12,000 units, and has managed over $350 million worth of renovation work. For more information, visit www.thedonaldsongroup.com.
DRA Advisors LLC is a New York-based registered investment advisor specializing in real estate investment management services for institutional and private investors. Since DRA was founded in 1986, the firm has acquired over $28 billion in assets, including 62,000 residential units, 50 million square feet of industrial properties, 43 million square feet of office space, and 65 million square feet of retail space. For more information, visit www.draadvisors.com.