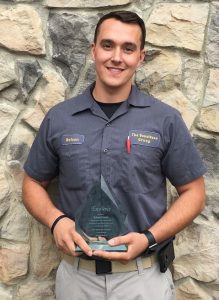 The Donaldson Group's Nelson Ramos, Service Manager at The Commons at Cowan Boulevard, Wellington Woods and Camden Hills in Fredericksburg, VA, won the Maintenance Supervisor/Service Manager of the Year (4 or more employees)—Special Recognition Award at the PMA Maintenance Professional Awards held October 26, 2016, at Martin's Crosswinds in Greenbelt, MD. Twelve maintenance professionals from ten different management companies were recognized at the annual event.
Nelson, a seven-year veteran of The Donaldson Group (TDG), was nominated by Senior Property Manager Meghan Kerlavage. "Nelson does an outstanding job managing his team across three sites comprising of 530 apartments," Meghan says. "He's the first in and last to leave and leads by example every day.  He would never ask a member of his team to do something he wouldn't do.  I'm always impressed by his leadership and positive attitude!"
Ironically, Nelson almost missed out on his award not once, but twice. First, the day of his PMA interview, an office miscommunication about date and time had Nelson supporting another TDG property more than 30 miles away. Through phone calls with Rick Lowman, Engineering Operations Manager for Southern Management Corporation and interviewer for the PMA Maintenance Professional Awards, they were able to come up with a mutually convenient time to meet later in the day.
Second, because Nelson is essentially a regional maintenance supervisor, there was not an established category in the contest for an employee at his level. Because he was already in Fredericksburg, Rick decided to go ahead and visit each of Nelson's three properties while he waited for Nelson to return. He was very impressed with the way Nelson maintains the properties under his supervision and decided to go ahead and interview him even though he technically did not fit into one of the award categories.
After replacing a water heater and then working on a second one, Nelson returned to Fredericksburg to meet with the interviewer after regular work hours.  Rick was stunned: "Nelson was fresh and new just like he showed up to work that morning, even after doing all that work. Despite having to do a tough job at a property miles away and dealing with the difficulty we had getting together, he had a really positive approach to everything."
Not only did Nelson have the right attitude and act with sterling professionalism, he further impressed Rick his "spot on" interview answers and the way he exhibited team mentality: "Nelson was always talking about things in terms of his team, not just himself. He was very humble."
Rick realized he had a dilemma—Nelson was not really in the service manager category, yet his performance was definitely worthy of recognition. He elaborates, "We didn't have a category for a regional maintenance supervisor, so it was really not fair to rank him with the others."
After returning to the PMA Operations Committee and discussing Nelson with them, Rick found a solution: "Nelson is truly a professional at another level. We were pleased to create a Maintenance Supervisor of the Year—Special Recognition Award to acknowledge him and his contributions to the profession."