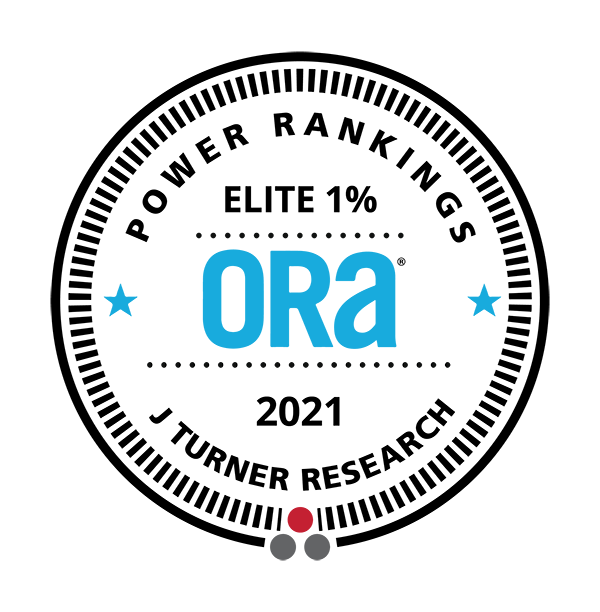 Rockville, MD – JANUARY 2022 – The Villas at Langley, a garden-style apartment community located in Hyattsville, MD, and Stevens Walk Apartments, a boutique apartment community in neighboring Beltsville, MD, have both been recognized among the Elite 1% properties in the nation with the best online reputation for 2021 by J Turner Research, the leading market research firm exclusively serving the multifamily industry. Of the 128,000 plus properties J Turner monitors, only 1,564 properties earned the Elite 1% distinction in the eighth annual Elite 1% ORA™ Power Ranking, published by Multifamily Executive (MFE).
Developed by J Turner Research, the ORA® Power Ranking is based on monthly online reputation research of over 128,000 properties' lifetime reviews across multiple review sites and Internet Listing Services (ILSs). Based on a statistical model, J Turner assigns an independent Online Reputation Assessment Score (ORA®) to each property on a scale of 0-100. The ORA® Score determines a property's rank in the Elite 1% ranking. The national average ORA® Score as of December 2021 was 62.62. Both Villas at Langley and Stevens Walk scored 94.
To be eligible for the 2021 Elite 1% ranking, a property had to register a minimum ORA® Score of 94 as of December 2021. For properties with the same ORA® score, the property with the higher number of reviews ranked higher.
J Turner Research developed the ORA® Score to simplify how online reputation is measured, and it serves as the multifamily industry standard to measure a property's online reputation. Each month, MFE publishes a ranking of properties and management companies based on their ORA® scores. A property or a management company does not have to be a J Turner Research client to qualify for this ranking. To learn more about ORA®, please visit https://jturner.us/ora.
When asked about the win, Regional Vice President Misti Mitchell stated, "Throughout 2021, our teams worked incredibly hard by providing the best customer service to their residents. In the midst of an ongoing pandemic and other property challenges, each team member at Villas at Langley and Stevens Walk Apartments strove to live the Donaldson Promise to every resident. Through on-line reviews and surveys, residents recognize our efforts which counts towards high ORA® scores. To be named by J Turner Research as a top ORA® apartment community in the nation for our stellar online reputation is a great start to the new year. We are grateful to our residents for cheering us on and submitting their positive experiences at the various review sites."
For more information on these award winning properties, please go to their websites at https://www.villasatlangley.com and https://beltsvilleapartmentrentals.com.